Almost every traveler coming to Peru plans to spend time in Cusco, the capital of the Inca Empire. Most will visit the New Wonder of the World, Machu Picchu. Other come to hike the Inca Trail. And after that, the Sacred Valley, to learn more about one of the most historically important places in South America. Cusco combines a one of a kind, quirky mixture of cobble stone streets, colonial architecture and old Inca stone foundations on the one hand, and nice cafes, bars, and stylish boutique hotels on the other. What are the Best Cusco Tours before, or after Hiking the Inca Trail?
Until you have the opportunity to visit the magnificent city of Cusco you may not realize that many of Cusco's best sightseeing opportunities and archeological sites are actually outside the center itself. And also, that you will need a full-day to complete any tour in and around Cusco.
That is why Cusco is such a tourism hot spot base for the southern Peru route. You can easily spend one week in Cusco, but the majority of the time will actually be spent exploring the surroundings of Cusco with fun and interesting day tours. And if you hike the Inca Trail to Machu Picchu, you'll even need longer in Cusco, to explore the city to the fullest.
If you are looking for Best Cusco Tours  with majestic Incan engineering, rarely visited hiking routes, otherworldly landscapes, picture perfect Instagram favorites, educational insights into the local communities of the Andes all within just a few hours reach of Cusco we have you covered. We made a list of the Best Cusco Tours before, or after Hiking the Inca Trail.
All of these tours in Cusco can be completed in private tours for just you, your close friends or family so as to protect you and your loved ones from COVID-19. Of course there are also options to travel in (small) groups, all corona-proof.

Which one of these fun day trips do you choose for before or after hiking the Inca Trail? If you don't have time for this round, don't forget you can always save it for your next vacation in Peru!
In this blog we are going to go over the top destinations in Cusco, the Best Cusco Tours, and essential information about the sites and the tours and the inspiration to help you planning your days in Cusco!
Best Cusco Tours
# 1 The South Valley
One of the quietest and most underestimated day trips in Cusco is to the South Valley. If you are looking to avoid the crowds due to COVID-19, see three highly unique sites and drive through some very traditional towns famous for their cuy (guinea pig), chicharrón (fried pork) and bread then this is the tour for you!
The duration of this tour is 6 hours beginning at around 8:30 in the morning. You will get to marvel at the beautiful Church of Andahuaylillas, a hidden jewel from the colonial period, which is often referred to as the Sistine Chapel of the Americas. Inside, admire the impressive collection of canvases with gold plated frames and mural paintings, baroque altarpieces, which offers an interesting combination of Andean and Christian imagery.
You will also admire the exquisite and insanely impressive archeological site of Tipón famous for its ancient irrigation system, which spreads water to all parts of the site. Finally, you will see the pre-Inca site of Pikillaqta, a cultural center of the Wari Empire, literally meaning, "city of fleas." After the tour, you will arrive back at your hotel in Cusco at around 3 pm.
Rainbow Mountain
Rainbow Mountain wasn't quite the sensation it was until 2015, when snow and ice melted away due to climate change and revealed the colorful striations beneath. Today, the rainbow mountain in Peru is an Instagram sensation and thanks to its newfound popularity, the mountain is starting to see its first signs of over tourism. If you decide to visit Rainbow Mountain, please tread lightly and take all of your trash and belongings with you.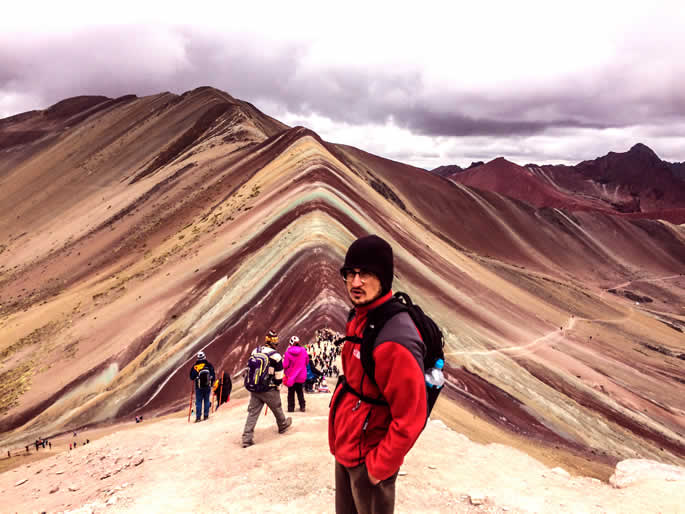 When you take a Rainbow Mountain tour you will leave from Cusco between 2 and 4 a.m. The ride to the entrance will take about 3 hours, then you will hike for around 2 hours to the photogenic summit, beware that during the rainy season the summit can be completely covered in snow, and well, it will be a mundane mountain of one color instead of a mountain of seven colors.
The full-day tour is fairly priced and highly recommended. You can book your tour in advance or even once you arrive to Cusco. In addition to the tour fee you will need to pay an entrance fee to get into the mountain, but your tour may or may not cover this fee so don't forget to ask so you don't have any surprises!
Until 2018, it was only possible to access Rainbow Mountain via a difficult seven-hour hike. A new road has opened it up and 3,000 – 5,000 visitors visit the site per day during the high season (pre-COVID-19 statistic).
Please give yourself a few days to acclimatize in Cusco before attempting this hike, which peaks at 5,200 meters (17,060 feet) above sea level. Learn more about how to prepare for the altitude here.
And, if you remember one thing from this section about Rainbow Mountain it should be: do not forget your sunscreen and hat!! We have had hikers with second-degree burns on their faces.
The Sacred Valley Tour
The Sacred Valley tour is a full-day tour that stops at some of the most popular sites in the Sacred Valley including a stop at the Mirador of Taray to see the spectacular views of the Andes and the Sacred Valley below, the small, photogenic traditional town of Pisac with a hippie vibe, the Pisac Market (an excellent place to get souvenirs), the Pisac Archeological site, Urubamba for a buffet lunch (optional) and then the two vast archeological sites that overlook the town of Ollantaytambo.
On the way back to Cusco you will be able to stop in the lovely town of Chinchero to see traditional textiles, weaving and dyeing techniques with local plants from the region, a church and the remains of the royal estate of Tupac Inca Yupanqui, depending on time.
Fun fact: The Pisac ruins are considered to be one of the finest remaining Inca ruins in the whole of Peru.
Others opt to stay in the town of Ollantaytambo because this is where the train takes off for the town of Aguas Calientes, the Machu Picchu Pueblo, to spend the night before heading up to Machu Picchu early in the morning. So, you can take the full-day Sacred Valley Tour, end the tour in Ollantaytambo and wait for your train to depart instead of going back to Cusco.
Fun fact!
Ollantaytambo is home to some of the oldest, continually inhabited buildings in all of South America!
To do the Sacred Valley Tour you will need the Partial Cusco Tourist Ticket III (boleto turistico) for the circuit that covers Pisac, Ollantaytambo, Chinchero and Moray and that is valid for 2 consecutive days.
The boleto turistico is a single ticket, which has to be purchased in advance to allow entry to various sites, such as the Pisac and Ollantaytambo ruins. It is not possible to visit or enter these sites without a valid boleto turistico, and it is not possible to buy an individual entry ticket for any single site, which is included on the boleto turistico. To ensure that the boleto turistico is included in the cost of your tour, speak directly with your tour operator.

If you prefer, you can purchase the full tourist ticket, which will include all of the sites below, and the ticket will be valid for 10 consecutive days.

Cusco Ruins | Saqsayhuamán, Q'enqo, Puka pukara, Tambomachay

Cusco Museums + Monuments | Contemporary Art, Museo Historical Regional, Monumento Pachacuteq, Tipon, Museo de Quoricancha, Museo de Arte Popular, Centro Quosqo de Arte Nativo, Pikillaqta

Sacred Valley Ruins | Pisac, Ollantaytambo, Chinchero, Moray.
Lake Humantay
If you won't be able to make it to Huaraz in the north of Peru to see Laguna 69 or Laguna Parón, then a visit to Lake Humantay needs to be on your bucket list! Lake Humantay (4200 MASL – 13779 FASL) has incredible blue-green water, which reflects the mountain glacier of Apu Humantay.
This day trip from Cusco is not only a spectacular hike, but it serves as an amazing opportunity to acclimatize if you plan to do the Inca Trail hike or another hike that leads to Machu Picchu. If you plan on doing the Salkantay trek please note that this tour is already included in your hike.
Fun fact!
The Inca Trail – the 4-day trek to Machu Picchu – is only open to 500 people per day, meaning that bookings sometimes have to be made up to six months in advance.
The full-day Lake Humantay tour departs at 3 a.m. The hike itself is only 7 kilometers but the bus ride round trip takes 6 hours. In addition to the tour cost you will have to pay an entrance fee unless the fee is included in your tour price.
Maras and Moray
Moray was once an Inca site for experimental agriculture. Today, you can see the mysterious circular terracing that was said to have been used to grow new varieties of edible plants, especially corn and potato by playing with altitude and temperature. Because of the different conditions at each level of the terraces there is a difference in temperature of about 15 degrees Celsius or 27 degrees Fahrenheit from top to bottom.
Maras, a still functioning salt mine, has over 3,000 pools of stunning hues of whites, pinks and browns. These two tours are often combined into one day because of their close proximity to one another. If you are going to Moray then you need to stop at Maras as well or vice versa!
The classic half-day tour, or the more adventurous quad bike tour, takes 6 hours to complete. Maras requires a separate admission fee. Entrance to the Moray ruins requires purchase of a Partial Cusco Tourist Ticket Circuit III or a full ticket.
Machu Picchu
Have you heard of Machu Picchu before? Machu Picchu is the most famous day trip in Peru on our list.  Definitely one of the Best Cusco Tours ! Although a day trip is not the best way to reach Machu Picchu in our opinion, it is a must for some travelers who have tight schedules but still want to see the World Wonder (obviously) before heading back home.
If you hike the Inca Trail to Machu PIcchu, obviously the machu Picchu tour is included. But if you read this article Best Cusco Tours without doing the Inca Trail, read along and continue to the next paragraph about Machu Picchu Tours.
There are many steps to the Machu Picchu Tour planning process. That is why we recommend first timers in Peru to book with an agency. The agency can solve your transportation to the train station in Ollantaytambo, the round trip train tickets with perfect timing based off of your entrance tickets to Machu Picchu, your entrance tickets to Machu Picchu and / or Wayna Picchu or Machu Picchu Mountain (optional), your guide, your bus tickets to and from the citadel of Machu Picchu and then your transportation back to your accommodation in Cusco. There is a lot of very specific timing to consider if you plan alone and you may just miss your entrance times or departure times if you are not careful.
Final fun fact!
The Incas did not have a written language. Instead they used the quipu or khipu, a colored woolen cord with knots of different lengths to convey messages and signals as well as oral traditions.
Travel in Peru: COVID-19 precautions
Tourists may need to book the above activities online because on-site ticket offices may be closed.
COVID-19 safety measures in place:
All areas that tourists touch are frequently cleaned
Tourists must keep distance in vehicles
The number of visitors is limited to reduce crowds
COVID-19 Traveler requirements:
Tourists must bring their own headphones
Tourists are required to bring and wear masks
Tourists must fill out a travel information form
Tourists will get a mandatory temperature check
Read more about the Inca Trail to Machu Picchu, and How to Book the Inca Trail.